CHEZ CASTEL — PACK OF 6
Regular price

$164.00
Sale price
The blink of a Godardian eyelash, the pages of Proust, smoky curls of incense, the spark of a lemon drop cocktail, Parisian tongues and art deco jade, amber flames crackling to the sound of spilled champagne.
Top: Ground Cedar, Sweet Grapefruit, Pink Peppercorn
Heart: Pine, Incense, Florentine Iris
Base: Santal, Amber, Velvet, Suede
With essential oils of Lemon, Black Pepper, Mandarin 
220G candle. 45 hour burn time. Signature three-colour gradient glass. Matching recyclable ombré packaging.
Our candles are made using fully traceable, sustainable, high-grade vegan wax comprised of an all-natural blend of soy and rapeseed oils formulated to melt in an even, slow burn. Formulated, crafted and hand-poured in the UK. Designed to evoke that pure, deep bliss of the dance floor in fragrance as vibrant and layered as the glass that holds it, and the disco that inspired it.
Our signature three-colour gradient glass is crafted by hand in the UK. Each colour is individually sprayed by hand and heat-set, before the next pigment is applied. The result is a layered effect that makes no two Discothèque glasses the same. A one-of-a-kind curio meant to stay in your home long after your candle has burned.
Burn time is approximately 45 hours. For the best burning experience, trim the candle wick before each use. Read our Candle Care for complete instructions.
We offer free shipping on all orders over £70 within the UK. Orders are processed, shipped and delivered in 2-3 business days within the UK. 
Worldwide shipping is available and shipping costs are calculated at checkout.
You can return any product purchased on our site within 14 days of delivery.
Read our full Shipping Policy and our FAQ for more details.
He saw her across the room through smoky curls of incense. An infinite moment, like inky letters floating from the pages of Proust. There was a glance. The blink of a Godardian eyelash. Her scent of skin and suede. The spark of a lemon drop cocktail. He followed her through a labyrinth of skinny stairwells, Parisian tongues and art deco jade. Sconces of amber flames crackled to the sound of spilled champagne until he reached her. His hand followed the seam of black nylons, pressed against red walls, and rolled into leather banquettes. They melted into each other like Dali clocks. And burned, burned, burned like Kerouac poetry, exploding like spiders across the stars.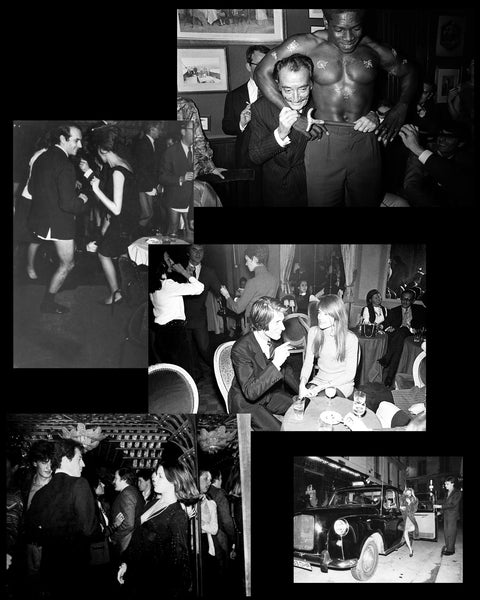 CHEZ CASTEL
PARIS, FRANCE
1969 - PRESENT

"J'aime les filles, de chez Castel," sang Jacques Dutronc in 1983, paying homage to the private club Jean Castel set up and eponymously named.

Originally a convenience store in Saint-Germain-des-Prés, the labyrinthine bar was set over three floors and filled with free-flowing champagne. Internationally renowned for witnessing the best of the '60s and the '70s in Paris.

The mythical institution has seen the crème de la crème of the Parisian cultural scene, frequented by icons such as Salvador Dali, Mick Jagger, Françoise Hardy, Serge Gainsbourg and Jean-Pierre Cassel.
Chez Castel, a full sensory experience: Feel the vibrations of the Paris dance floor come to life.
CHEZ CASTEL — PACK OF 6 — BY OUR RESIDENT DISCOTHÈQUE DJS.