WAG CLUB — PACK OF 6
Regular price

$164.00
Sale price
Hedonists on the dance floor, soul and glamour, the taste of limoncello, warm flushed cheeks, a blazing orange sunset, dewdrops on a water lily, a little red corvette, howling under hot pink lights at a disco ball moon.
Top: Limoncello, Orange Juice, Zest
Heart: Apple Blossom, Pink Water Lilies, Mulled Wine, Hot Red Pepper
Base: Sweet Musk, Amber, Patchouli
With essentials oils of Bergamot
220G candle. 45 hour burn time. Signature three-colour gradient glass. Matching recyclable ombré packaging.
Our candles are made using fully traceable, sustainable, high-grade vegan wax comprised of an all-natural blend of soy and rapeseed oils formulated to melt in an even, slow burn. Formulated, crafted and hand-poured in the UK. Designed to evoke that pure, deep bliss of the dance floor in fragrance as vibrant and layered as the glass that holds it, and the disco that inspired it.
Our signature three-colour gradient glass is crafted by hand in the UK. Each colour is individually sprayed by hand and heat-set, before the next pigment is applied. The result is a layered effect that makes no two Discothèque glasses the same. A one-of-a-kind curio meant to stay in your home long after your candle has burned.
Burn time is approximately 45 hours. For the best burning experience, trim the candle wick before each use. Read our Candle Care for complete instructions.
We offer free shipping on all orders over £70 within the UK. Orders are processed, shipped and delivered in 2-3 business days within the UK. 
Worldwide shipping is available and shipping costs are calculated at checkout.
You can return any product purchased on our site within 14 days of delivery.
Read our full Shipping Policy and our FAQ for more details.
It was a hot summer night in London. The turntables spun from jazz to funk, from reggae to hip hop. With every flip of the record, she got lower, closer to him. They were hedonists on the dance floor. United in the love of soul and glamour. Their hips locked, their breath in sync. The taste of limoncello. She held him by the back of his neck. Her cheeks flush with shimmering beads of sweat, like dewdrops on a water lily. She was a blazing orange sunset. A little red corvette. An aphrodisiac embodied. He could have danced to this song forever. Under the hot pink lights, howling at a disco ball moon.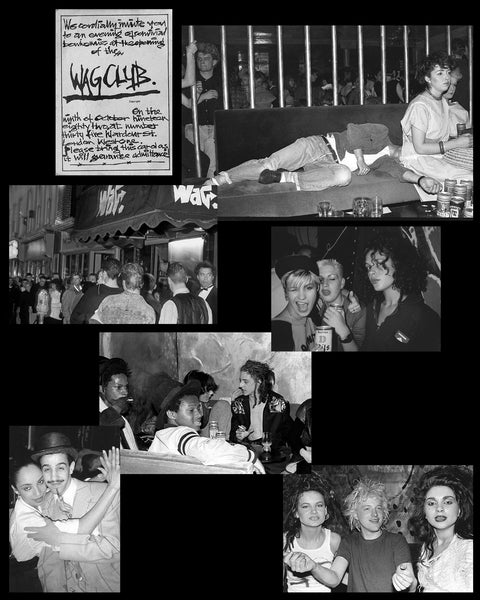 WAG CLUB
LONDON, ENGLAND
1982 - 2001

The Wag Club was known for housing the world's most exciting artists, musicians and fashion designers on its hedonistic dance floor. For almost two decades, it brought people from all ages, races and classes together. The Wag Club's legend was truly built by its remarkably forward-thinking music policy. Driven by a love of soul, the club was credited as one of the first places in England to completely embrace hip hop, then the house explosions booming from New York.
Wag Club, a full sensory experience: Feel the vibrations of the London dance floor come to life.
WAG CLUB — PACK OF 6 — BY OUR RESIDENT DISCOTHÈQUE DJS.