MUDD CLUB
Regular price

$69.00
Sale price
A warm fever pitch, swirling vanilla clouds, a peach flavoured cocktail, the balmy breeze of paradise, a Mapplethorpe flower, elegant, depraved and frozen in time, a night that you don't want to end.
Top: Milk, Peach, Coconut, Saltwater, Almond
Heart: Heliotrope, Cherry Pie, Marzipan
Base: Vanilla, Mignonette, Whiskey, White Forsythia
220G candle. 45 hour burn time. Signature three-colour gradient glass. Matching recyclable ombré packaging.
Our candles are made using fully traceable, sustainable, high-grade vegan wax comprised of an all-natural blend of soy and rapeseed oils formulated to melt in an even, slow burn. Formulated, crafted and hand-poured in the UK. Designed to evoke that pure, deep bliss of the dance floor in fragrance as vibrant and layered as the glass that holds it, and the disco that inspired it.
Our signature three-colour gradient glass is crafted by hand in the UK. Each colour is individually sprayed by hand and heat-set, before the next pigment is applied. The result is a layered effect that makes no two Discothèque glasses the same. A one-of-a-kind curio meant to stay in your home long after your candle has burned.
Burn time is approximately 45 hours. For the best burning experience, trim the candle wick before each use. Read our Candle Care for complete instructions.
We offer free shipping on all orders over £70 within the UK. Orders are processed, shipped and delivered in 2-3 business days within the UK. 
Worldwide shipping is available and shipping costs are calculated at checkout.
You can return any product purchased on our site within 14 days of delivery.
Read our full Shipping Policy and our FAQ for more details.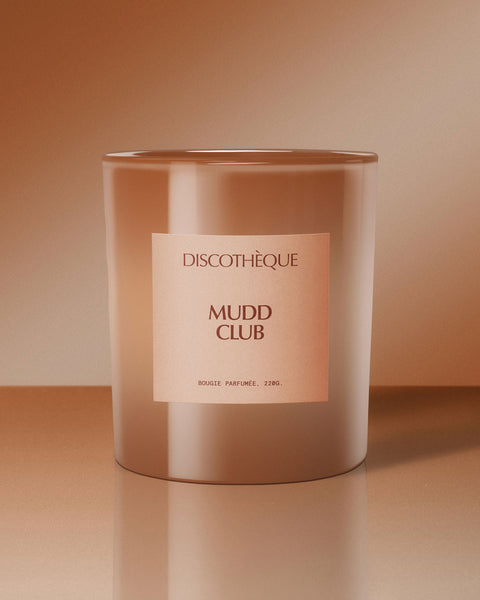 It's 4am and you don't want the night to end. The vibrating bass fills the room to a warm fevered pitch. You're tucked in a corner of Manhattan, but also far above the world, in Bowie's tin can, and Planet Earth is blue. An infinity of milky white cat eyes through gold-veined mirrors,  your thoughts like swirling vanilla clouds. You could be a Mapplethorpe flower, elegant, depraved, and frozen in time. This is the place where a soup can is a hero. Here, the future is as shiny and gigantic as a metallic Koons balloon. A peach-flavoured molotov cocktail hurled in the face of status-quo. It smells like the glow of liberation, a balmy breeze of paradise. Because it's always warm in the underground, in that one place where anything goes.
Mudd Club, a full sensory experience: Feel the vibrations of the New York dance floor come to life.
MUDD CLUB — BY OUR RESIDENT DISCOTHÈQUE DJS.