UPSTAIRS
Regular price

$69.00
Sale price
Soft pink lipstick shimmering through raindrops, a hint of freesia in the air on fresh wet pavement, the sound of jazz piano, warmth with a faint scent of clove, a burning voice that croons what have you done to my heart?
Top: Violet Leaf, White Rose, Peach, Metallic
Heart: Freesia, Powder, Lilac, Fuchsia, Lily
Base: Clove, Tobacco, Cinnamon
220G candle. 45 hour burn time. Signature three-colour gradient glass. Matching recyclable ombré packaging.
Our candles are made using fully traceable, sustainable, high-grade vegan wax comprised of an all-natural blend of soy and rapeseed oils formulated to melt in an even, slow burn. Formulated, crafted and hand-poured in the UK. Designed to evoke that pure, deep bliss of the dance floor in fragrance as vibrant and layered as the glass that holds it, and the disco that inspired it.
Our signature three-colour gradient glass is crafted by hand in the UK. Each colour is individually sprayed by hand and heat-set, before the next pigment is applied. The result is a layered effect that makes no two Discothèque glasses the same. A one-of-a-kind curio meant to stay in your home long after your candle has burned.
Burn time is approximately 45 hours. For the best burning experience, trim the candle wick before each use. Read our Candle Care for complete instructions.
We offer free shipping on all orders over £70 within the UK. Orders are processed, shipped and delivered in 2-3 business days within the UK. 
Worldwide shipping is available and shipping costs are calculated at checkout.
You can return any product purchased on our site within 14 days of delivery.
Read our full Shipping Policy and our FAQ for more details.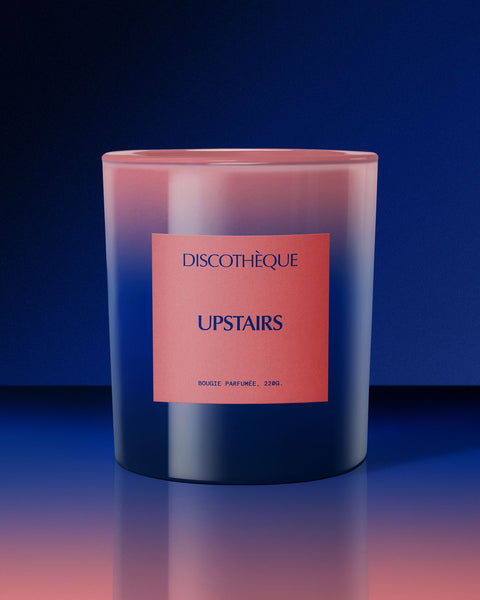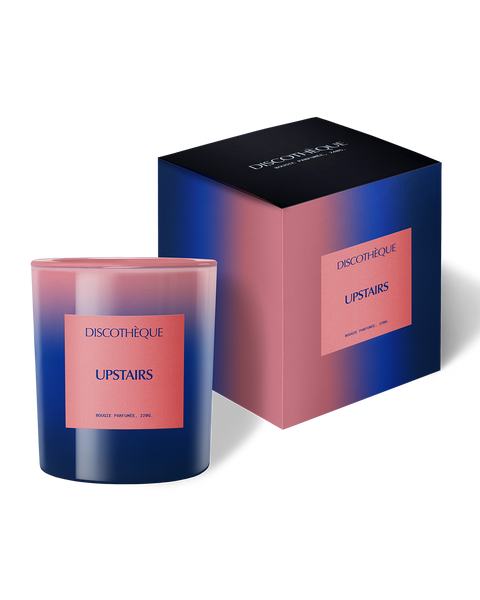 It was one of those long romantic nights in London that could only end in rainfall, running arm-in-arm, ducking the skies of Soho until, under an awning, they paused. Her soft pink lipstick shimmered through the raindrops of a clear umbrella. A hint of freesia was in the air on fresh wet pavement, and the faint sound of jazz piano played from inside the doors. The club was warm, a faint scent of clove. Endless rows of tiny red lamps seemed to blink to the quick brush of cymbals, while a woman in a burning voice, the colour of fuchsia, crooned what have you done to my heart? There was a quickened pulse, a skipped beat, eyes of peach-coloured roses. And as they watched the woman sing, they each had the same thought. That maybe, like Billie says, at last their lonely days are over.
Upstairs, a full sensory experience: Feel the vibrations of the London dance floor come to life.
UPSTAIRS — BY OUR RESIDENT DISCOTHÈQUE DJS.