MILK!
Regular price

$60.00
Sale price
A lush jungle of sound, tense snares, hot skin, leather, hard white strobes, obsidian cliffs, knotted trunks of juniper, a dense forest floor, dancing between trees as the sun sears the horizon and paints a tangerine sky.
Top: Weeping Juniper, Citrus Limon, Bergamot, Black Pepper
Heart: Resin, Orris
Base: Sandalwood, Vanilla Bean, Leather, Balsamic
With essential oils of Petitgrain and Citrus
220G candle. 45 hour burn time. Signature three-colour gradient glass. Matching recyclable ombré packaging.
Our candles are made using fully traceable, sustainable, high-grade vegan wax comprised of an all-natural blend of soy and rapeseed oils formulated to melt in an even, slow burn. Formulated, crafted and hand-poured in the UK. Designed to evoke that pure, deep bliss of the dance floor in fragrance as vibrant and layered as the glass that holds it, and the disco that inspired it.
Our signature three-colour gradient glass is crafted by hand in the UK. Each colour is individually sprayed by hand and heat-set, before the next pigment is applied. The result is a layered effect that makes no two Discothèque glasses the same. A one-of-a-kind curio meant to stay in your home long after your candle has burned.
Burn time is approximately 45 hours. For the best burning experience, trim the candle wick before each use. Read our Candle Care for complete instructions.
We offer free shipping on all orders over £70 within the UK. Orders are processed, shipped and delivered in 2-3 business days within the UK. 
Worldwide shipping is available and shipping costs are calculated at checkout.
You can return any product purchased on our site within 14 days of delivery.
Read our full Shipping Policy and our FAQ for more details.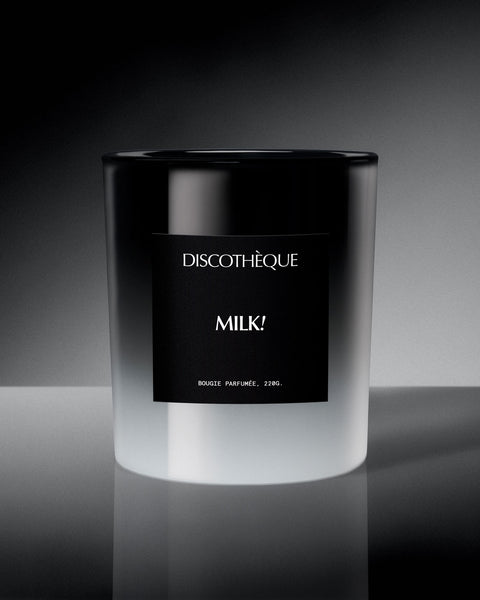 She liked her bass heavy and beats broken. A lush jungle of sound, tense snares, hot skin, and leather. Pressed into strangers, with arms in the air.  Hard white strobes in a stark black room, she could close her eyes and be anywhere. Pulsing in the heat of hypnotic noise, the walls of Mannheim, Germany turned to obsidian cliffs. The black columns she danced through became knotted trunks of juniper. The concrete she stomped, a dense forest floor. A smoky morning mist, the scent of lemony wood. Glowing, burning embers. Jumping, sweating bodies. Dancing between trees until the house lights go on, when the sun sears the horizon and paints a tangerine sky.
MILK!
MANNHEIM, GERMANY
1990 - 1993

"Although it only lasted three years, Mannheim's Milk! Club established a legacy that lasts to this day.

"When it opened in 1990, its genres of choice were still a joyous, chaotic mass of many different sounds ... but soon most German clubbers started stomping to a techno beat, while a fiercely loyal crowd, known as the notorious "Milk! Posse", liked their beats broken, their bass heavy, their pianos anthemic and their hands in the air. Thus the club embarked on a mission that laid the foundation for drum & bass and other breakbeat styles in Germany."

— FINN JOHANNSEN, FOR AN ELECTRONIC BEATS COLUMN
Milk!, a full sensory experience: Feel the vibrations of the Manheim dance floor come to life.
MILK! — BY OUR RESIDENT DISCOTHÈQUE DJS.