CHEZ CASTEL
It was a hot summer night in London. The turntables spun from jazz to funk, from reggae to hip hop. With every flip of the record, she got lower, closer to him.
They were hedonists on the dance floor. United in the love of soul and glamour. Their hips locked, their breath in sync. The taste of limoncello. She held him by the back of his neck. Her cheeks flush with shimmering beads of sweat, like dewdrops on a water lily.
She was a blazing orange sunset. A little red corvette. An aphrodisiac embodied. He could have danced to this song forever. Under the hot pink lights, howling at a disco ball moon.
SHOP CHEZ CASTEL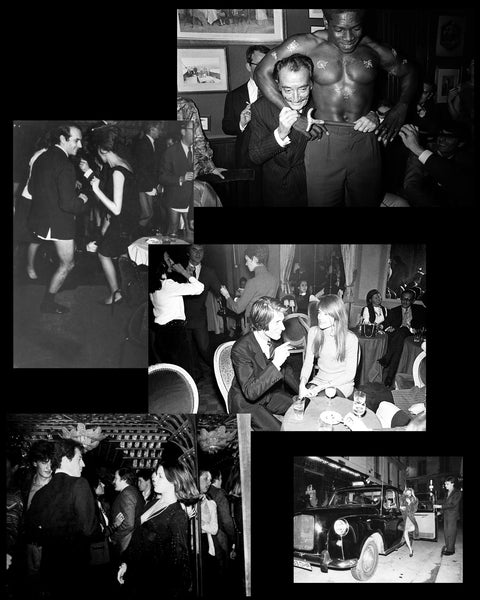 The Discothèque: Chez Castel
PARIS, FRANCE
1969 - PRESENT

"J'aime les filles, de chez Castel," sang Jacques Dutronc in 1983, paying homage to the private club Jean Castel set up and eponymously named.

Originally a convenience store in Saint-Germain-des-Prés, the labyrinthine bar was set over three floors and filled with free-flowing champagne. Internationally renowned for witnessing the best of the '60s and the '70s in Paris.

The mythical institution has seen the crème de la crème of the Parisian cultural scene, frequented by icons such as Salvador Dali, Mick Jagger, Françoise Hardy, Serge Gainsbourg and Jean-Pierre Cassel.
The Discothèque: Paradise Garage
NEW YORK CITY, USA
1978 - 1987

"The Paradise Garage was like church. People who came from all over the tristate area and beyond to spend the weekend at the Garage. That was the congregation, and Larry was the minister. He was preaching through his records. You always knew what type of mood Larry was in depending on what he played. If he was pissed at somebody he'd send them a message through whatever it was he was playing. And if he was feeling good, people knew he was feeling good. He was the Pied Piper. Nobody did it better."

— BERNARD FOWLER
PARADISE GARAGE
£40, 220G CANDLE
Mouthfuls of purple rain, a taste of blackcurrant and honey, a blooming orange blossom, rapture in an 8-track, that sacred second between songs, violet and amber lights, a cyclone on the dance floor.
SHOP PARADISE GARAGE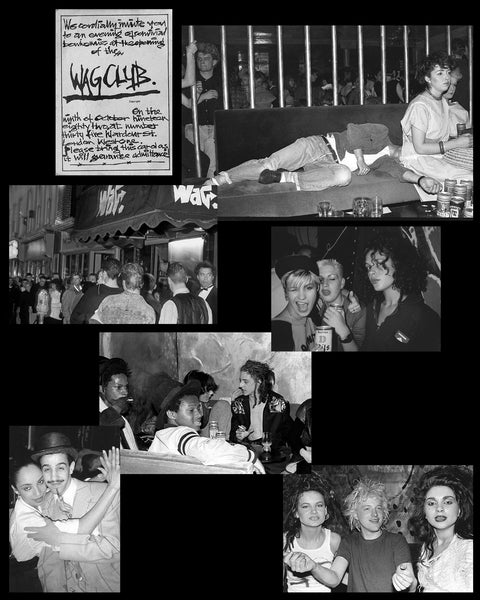 The Discothèque: Wag Club
LONDON, ENGLAND
1982 - 2001

Known for housing the world's most exciting artists, musicians and fashion designers on its hedonistic dance floor. For almost two decades, it brought people from all ages, races and classes together: everyone from Jean-Paul Gaultier to Robert De Niro, Naomi Campbell to Prince stepped foot through its doors. It was also the home of David Bowie's "Blue Jean" video.

"It was a time when anything seemed possible. We blew the bloody doors off, causing a wave of hip-hop fanaticism throughout the capital. Folk that had turned up in '50s suits or ripped Levi's came back the following week in tracksuits and backwards baseball caps."

- CHRIS SULLIVAN, FOUNDER
WAG CLUB
£40, 220G CANDLE
Hedonists on the dance floor, soul and glamour, the taste of limoncello, warm flushed cheeks, a blazing orange sunset, dewdrops on a water lily, a little red corvette, howling under hot pink lights at a disco ball moon.
Shop Wag Club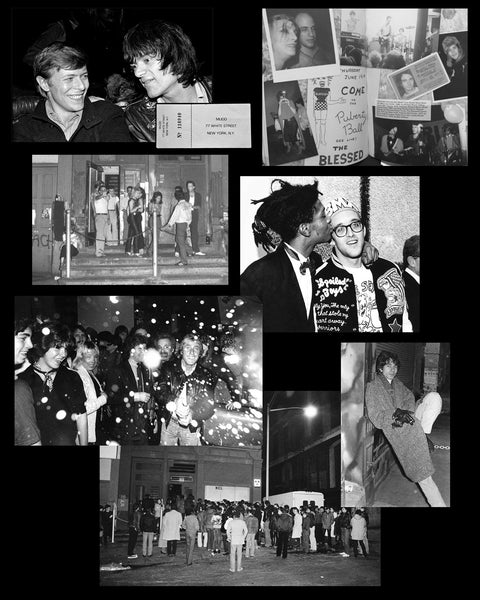 The Discothèque: Mudd Club
NEW YORK CITY, USA
1978 - 1983

"If you started saying, 'How long do we have to wait?' that was a strike against you. If you said, 'Is there a line?' that was a strike against you. If you said to me, God forbid, 'Studio 54 lets us in,' that was the kiss of death.

"A teenage Basquiat going wild on the dance floor, Jeff Koons approaching the door as a still-unknown. Jim Jarmusch pressed against the wall nursing a beer and Mapplethorpe flaunting full leather, straddling the edges of notoriety and fame.

"There were no rules and no grand plan: the vibe was anything goes."

— RICHARD BOCH, MUDD CLUB'S DOORMAN
MUDD CLUB
£40, 220G CANDLE
A warm fever pitch, swirling vanilla clouds, a peach-flavoured cocktail, the balmy breeze of paradise, a Maplethorpe flower, elegant, depraved and frozen in time, a night that you don't want to end.
Shop Mudd Club
The Discothèque: Upstairs at Ronnie Scott's
LONDON, ENGLAND
1959 - PRESENT

Upstairs at Ronnie's, or Ronnie Scott's, was started in 1959 in the heart of Soho by musicians Ronnie Scott and Pete King. The club is known for being one of the most historic jazz clubs in the world and was the first to have primarily Black artists take the stage.

Scott regularly acted as the club's Master of Ceremonies, and was known for his repertoire of jokes and one-liners. Bringing New Orlean's jazz to London and capturing some of the '50s speakeasy spirit, the club epitomized prestige, class and sophistication.

Jimi Hendrix's last public performance was at Ronnie Scott's, in 1970.
UPSTAIRS
£40, 220G CANDLE
Soft pink lipstick shimmering through raindrops, a hint of freesia in the air on fresh wet pavement, the sound of jazz piano, warmth with a faint scent of clove, a burning voice that croons what have you done to my heart?
SHOP UPSTAIRS
The Discothèque: Crisco Disco
NEW YORK CITY, USA
1975 - 1985 (APPROX.)

Crisco Disco was an important gay club that opened in a multi-floor converted warehouse in the Meatpacking District. But its most recognizable architectural feature was inside: a mock giant can of Crisco that served as the DJ booth. The club didn't have a liquor license, so you had to buy tickets which you could exchange for drinks, or you could BYOB (if you knew the right people).

When Crisco Disco closed in the '80s, the warehouse that housed it sat unoccupied for over 30 years until it was bought and turned into a restaurant.
CRISCO DISCO
£40, 220G CANDLE
Whipped cream foam, a suede jacket, the scent of cedar, blood orange, the lyrics burn baby burn as your heart floats in a fluffy vanilla sky, the night you fall in love in the Meatpacking District.
SHOP CRISCO DISCO
The Discothèque: The Haçienda
MANCHESTER, ENGLAND
1982 - 1997

"Tony and Rob Gretton started the Hacienda for people like us: punks who had nowhere to go. It wasn't about making money, it was about housing oddballs."

— PETER HOOK, BASSIST OF NEW ORDER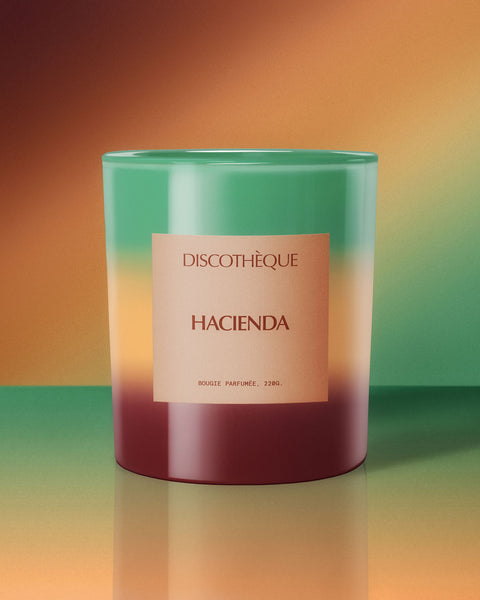 HACIENDA
£40, 220G CANDLE
A warm shock to the system, honey-colored light, a red-apple heart with an electric synth beat, violet eyes, a utopia for misfits, for wallflowers to bloom, almond tree blossoms on a crisp autumn night.
SHOP HACIENDA
The Discothèque: Le Baron de Paris, Tokyo
TOKYO, JAPAN
2006 - 2015

The most recent of the lot, Tokyo's exclusive nightclub was opened following the success of the legendary Le Baron Paris.

Like its predecessor, Le Baron De Paris became known for attracting socialites, celebrities and even royalty... if they could find it. It was hidden down an alley in Aoyama, only recognizable by a small neon 'B' at the entrance. Inside, you were met with a moody velvet interior and a tiny dance floor that everyone would manage to fit on. The night started here around 1 AM and if you were lucky, you'd sneak in some karaoke songs in one of the secret rooms.
LE BARON DE PARIS, TOKYO
£40, 220G CANDLE
A siren's song in sapphire waters, a fresh sprig of jasmine growing through a crack in blue asphalt, spinning happy flowers of a Murakami kaleidoscope, unfolding and opening to you like tuberose in spring.
SHOP LE BARON DE PARIS, TOKYO
The Discothèque: Milk!
MANNHEIM, GERMANY
1990 - 1993

"Although it only lasted three years, Mannheim's Milk! Club established a legacy that lasts to this day.

"When it opened in 1990, its genres of choice were still a joyous, chaotic mass of many different sounds ... but soon most German clubbers started stomping to a techno beat, while a fiercely loyal crowd, known as the notorious "Milk! Posse", liked their beats broken, their bass heavy, their pianos anthemic and their hands in the air. Thus the club embarked on a mission that laid the foundation for drum & bass and other breakbeat styles in Germany."

— FINN JOHANNSEN, FOR AN ELECTRONIC BEATS COLUMN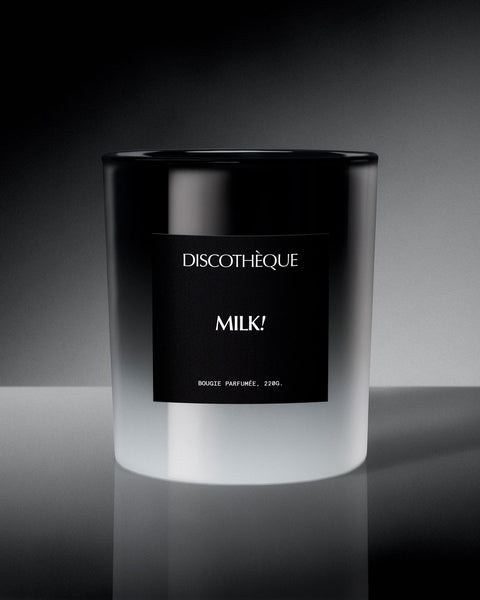 MILK!
£40, 220G CANDLE
A lush jungle of sound, tense snares, hot skin, leather, hard white strobes, obsidian cliffs, knotted trunks of juniper, a dense forest floor, dancing between trees as the sun sears the horizon and paints a tangerine sky.
SHOP MILK!